Events and Entertainment
The Blackthorne Resort's Entertainment schedule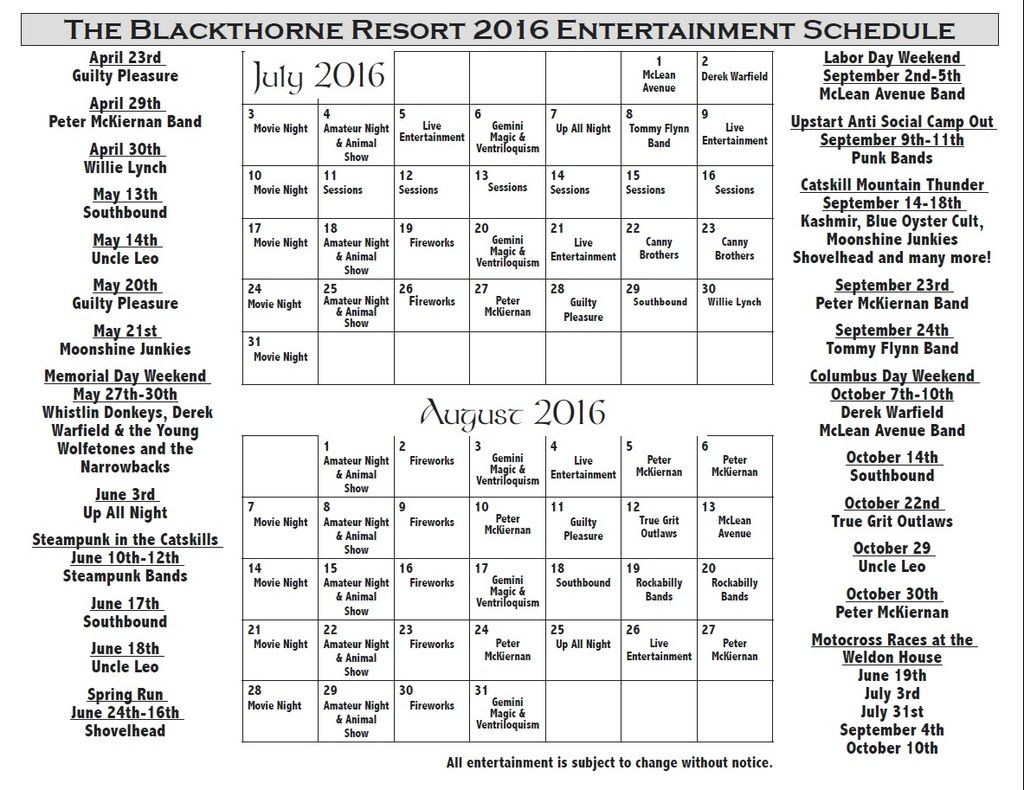 Our nightclub has the best topnotch nightly entertainment & international acts in the Catskills. We happily feature late night snacks, happy hours, masquerade parties, Karaoke contest and free weekend give-aways.
Click on the Orange links for more information.
Upcoming Events:2017
December 31st: New Years Eve
February 17th-19th: Trailer Trash Bash & Winter Weekend Getaway
March 18th: 2nd Annual St. Patrick's Day Pub Crawl
March 31st-April 2nd: Private Event
April 7th-9th: Motorcycle Mayhem
April 21st-23rd: Mary G. Weekend. $99.00 special
May 12th-14th: North East Grand Slam, St. Bernard show.
May 26th-29th: Memorial Day Weekend
June 9th-11th: Steampunk in the Catskills with Jeff Mach & Friends
June 16th-19th: Lost Treasure Weekend: A weekend full of seeded and non-seeded hunts!
June 23rd-25th: Spring Run
June 30th-Seasonal Rates Begin
June 30th- July 2nd- Fourth of July Weekend
July 9th-16th Catskill's Irish Arts Week!
July 22nd St. Jude's fundraiser: Located in our Pavilion, 5-8:00 pm
August 4th-6th: Catskill Mountain Feis
August 18th-20th: Rats Nest Run
September 1st-4th: Labor Day Weekend
September 13th – September 17th: Catskill Mountain Thunder Motorcycle Festival
October 6th – October 9th: Columbus Day Weekend & Oktoberfest
October 7th: Oktoberfest and Pig Roast
October 13th -October 15th: Halloween in the Catskills with Jeff Mach & Friends: Part I
October 20th – October 22nd: Halloween in the Catskills with Jeff Mach & Friends: Part II
October 27th-October 29th: Halloween Bash Weekend $99.00 Special Live music Friday and Saturday night. Costume party Saturday with no cover charge, contests, games and more!